Nong PingKhong is a dog that  had a nylon rope tightly tied around her neck for many days.  Apparently she's another victim of the cruel practice of dog meat eating.  In Northern Thailand it's a common method among the Shan immigrants to use a knotted rope to catch a dog they want to eat.   A monk at Wat Kasetmai in Amphur San Sai said that two temple dogs disappeared and one came back with a nylon rope tightly tied around her neck.  It's clear that someone tried to catch her, but she bit the rope and ran back to the temple.  She's lucky but her other friend wasn't. Prior to that incident some Shan men came to the temple as asked the monks to take some dogs home on the pretext of wanting to give them home.  Fortunately the monks didn't believe their story.
Nong PingKhong's case was brought to my attention by Khun Namfon Hilgers of  Santidog Foundation; she was contaced by Khun Bebumbumm.  I took the case and drove up to Khrong Kan Huay Luk, Ko. Mo 95, Tambon Ping Khong, Amphur Chiang Dao in Chang Mai.  it turned out that the nylon rope that was tightly attached to neck made a big cut into her skin and caused a deep rotten wound with foul smells and worms crawling on it.  Her blood taste revealed that she has blood parasites and kidney problems due to dehydration for a long period of time.
After treatment with anti-biotics, fluid injections, supplements, and special food for dogs with kidney problems her conditions gradually improve.  She's a lovely girl and she starts to trust people again.
เคสน้องหมาถูกเชือกรัดคอ จากการแจ้งทางหน้าเพจโดยคุณบุ๋ม Bebumbumm Beme และแจ้งมาทางคุณ
Namfon Hilgers
จากมูลนิธิสันติสุข ทำให้ผมได้มีโอกาสได้ลงพื้นที่
ไปช่วยเหลือน้องหมาตามพิกัด โครงการหลวงห้วยลึก กม.ที่ 95 ต.ปิงโค้ง อ.เชียงดาว จ.เชียงใหม่
น้องหมา โดนกับดักเป็นเชือกไนลอนรั
ดคอเป็นเวลานาน แผลเน่าเหม็นมาก มีหนอนชอนไชบริเวณแผล จากการตรวจเลือด น้องมีภาวะติดเชื้อแบคทีเรี
ยในกระแสเลือด เนื่องจากแผลเรื้อรัง มีพยาธิเม็ดเลือดร่วมด้วย และภาวะไตวายเฉียบพลั
นจากการขาดน้ำ หลังรักษา น้องปิงโค้งมีอาการดีขึ้น ให้น้ำเกลือ ยาปฏิชีวนะ ยาบำรุงร่างกาย อาหารสำหรับสุนัขโรคไต และทำความสะอาดแผลทุกวัน จนมีอาการดีขึ้นเป็นระยะแล้
วนะครับ น้องนิสัยดีขึ้นมาก ไว้ใจคนมากขึ้นแล้วครับ ตอนนี้น้องรักษาที่ โรงพยาบาลสัตว์หมอนุก เชียงใหม่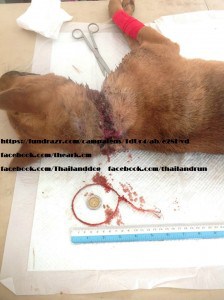 dog meat trade